MooMoo.io Game 2023 Strategies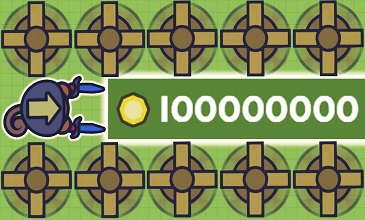 Moomoo.io game 2023 is a popular survival and castle building game. There are many innovations in the 2023 version of this game, but for those who do not know the game in general, we will introduce Moomoo.io game 2023 to you.
MooMoo.io Game 2023: An Overview
Moomoo.io game is among the most played multiplayer survival games across the globe. The player's objective in this game is to gather valuable resources. This is to be achieved by hitting woods & stones. Once resources are gathered upon, the player can now construct walls & windmills. The walls are to be constructed to protect resources & the windmills. Over time, windmills can help derive useful points and help the player to grow. Similar to other .io games, other member players can also be hit. Food supplies may be hit to recover health that is lost in the game. With the Moomoo.io texture pack, you can play the game better and have better visuals.
MooMoo.io Game Strategies
Given below are few basic strategies that need to be followed when playing the Moomoo.io game. However, no perfect techniques or strategies are present to win this game. The player is required to practice the basic moves to get started and learn the game.
What to do when chased?
Monsters are usually programmed to destroy your life very quickly. So you have to escape from them or destroy them by attacking them. When chased upon by a Wolf, Bully, or Bull, on possessing pit trap, put it down along with some spikes. The latter when used will damage quickly the Bull's health, thus killing it.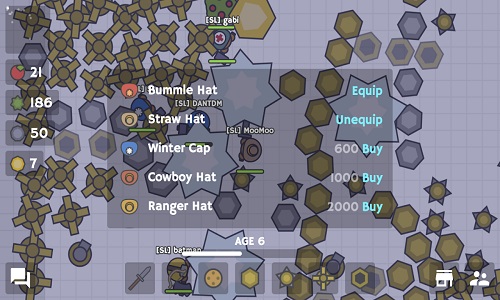 What to do when going AFK?
In this part of the Moomoo.io game 2023, a windmill hat needs to be used. On coming back, the player can either gets to the main menu or plenty of points (gold).
What about Bush Campers?
These players can really destroy you, so try not to go near the trees. Be aware of them! Their names are also invisible.
When can the play move fast?
The player will be able to reach high speed only upon using few things. These are daggers or the great axe, shadow wings (black wings), and the booster hat. Using this combo, it becomes possible to outrun all animals easily, but except quack.
Other MooMoo.io Strategies To Follow
To level up, mine 2/3 resources simultaneously & derive more resources.
To kill hackers, use spikes & pit traps.
With gold mine, prepare the base and put on windmill hat along with axe, daggers or stick. Move towards the leaderboard slowly, but steadily and surely.
To escape from other players, it is necessary to cross rivers and go to the other side. For this, the player needs to make use of the fish hat.
If there are other players around and the plan is to hide from them, then use assassin gear.
Overall, Moomoo.io game 2023 is quite interesting and played by all ages with great interest.