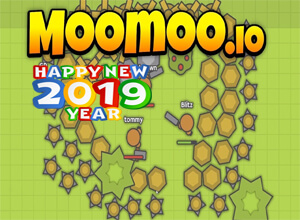 Moomoo.io, the new viral hit io game which is gaining popularity fast and is super addicting and super funny. In Moomoo.io game 2019, players need to survive against animals and other players. In addition, there are a lot of new updates of this game to increase gameplay styles. Read to find more about Moomooio game 2019.
What Is Moomoo.io Game 2019?
In this age of online multiplayer games, there's a category of games named io. The io games are online games with the .io domain and are infinite gameplay games. They first started as a few famous games with the .io domain but soon turned into their own category of games. Games like Agar.io and Slither.io and the rising Moomoo.io being some of their examples.
And here comes Moomoo.io in the picture. It is a game where a player needs to harvest and survive as long as he can. The player needs to upgrade their gear and equipment and fight out with other players around the world.
It's incredibly fun due to the huge amount crazy things players can do to survive.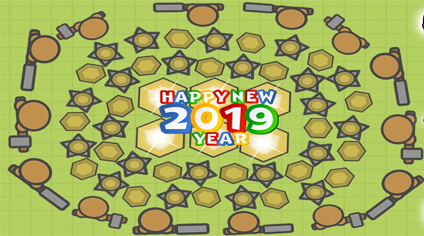 Gameplay Of Moomoo.io 2019
Moomoo.io is a pretty basic game whose whole premise revolves around the phrase "Collect and survive". All a player needs to do is to collect resources, upgrade their equipment and survive for as long as possible.
And this is the thing that makes the Moomoo.io game so addicting. From the start of the game, the player needs to collect resources and upgrade and there is no end to it. And as a single server has only one map, it will be fairly easy for you to find other players and try to kill them.
Fighting isn't highly recommended as it is fairly risky but in case a player wants to fight and do wins, the number of rewards is enormous. There are also a lot of new things which a player can unlock by killing other players. So killing players is also beneficial as it will help a player go up the leaderboard fairly fast.
Things To Watch Out While Playing The Game
It's worth mentioning the fact that Moomoo.io game 2019 is a fairly difficult game. Not due to its complexity but due to the absence of a tutorial. This basically means that there are no tutorials to guide you at the start of a game. So what a player can do is find the help section, it may not be a great tutorial but with it, the player will start to understand the game a bit.
But due to the simplicity of the game, it isn't much of a task to get a hang of it. It's also recommended that players do not waste a single second and make their character work every single second because there are other players on the server too, trying to make their bases bigger and getting ready to kill you.
Just like the other .io games, Moomoo.io game 2019 is also an unending survival game that is super addictive and super fun. It is highly recommended to play the game yourself.